It all started with the iAccelerator program of IIM-Ahmedabad in 2010, when most of my batch-mates and peers were busy preparing for semester exams, I was at IIIT-Bangalore pitching my first startup plan.
Please find the screenshot of feedback I am sharing below.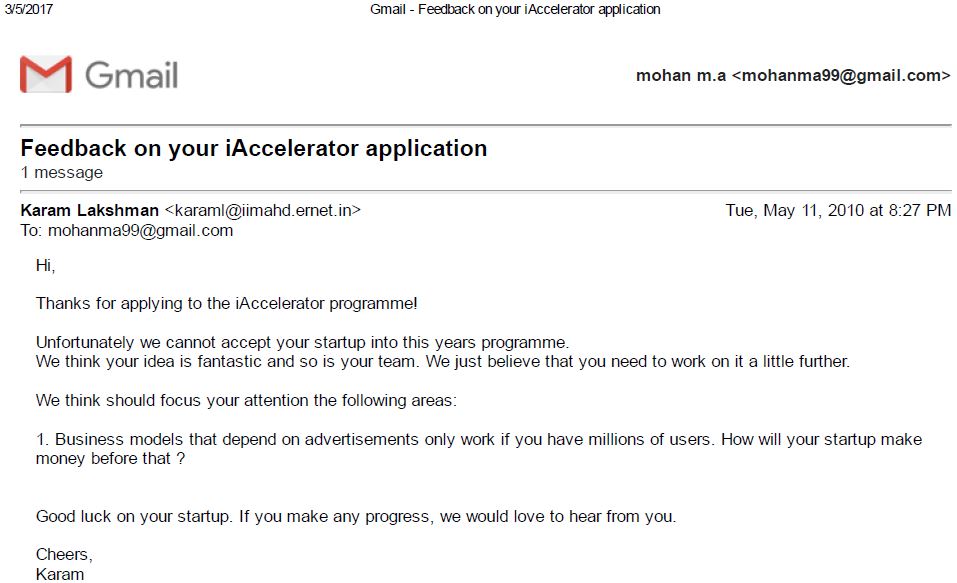 Even-though my pitch couldn't make it that year, the sense of clearing the application round and being invited to IIIT-B in itself was a big boosting success for me.
This was at a time when startup was not a buzzword in India(pre smartphone era), startups in India had just started keeping their baby steps.
I am a first generation Entrepreneur.
Initially entrepreneurship was just an attraction(2009-sophomore year), I remember there was a delegate who was in our college as part of student interaction program from USA, he was explaining a hall of 100-150 students about the trends in US where students dropout to start their own website/company(Facebook was 5 year old startup at this point). I had announced to the hall and him saying "you got it mate, I will have a website" with lots of adrenaline rush.
Professors in my college were very supportive at this stage, I have discussed a lot of my ideas with professor Pushpalatha K N(Linear Integrated Circuits and Applications) who was always encouraging me. Also, professor Deepa N P(micro-controllers) was keen on helping me setting up a web portal way back in 2009. And not to forget professor Nirmal Kumar Benni whom I could meet only during my final year was supportive as well.
I just wanted to start a website to begin with, later I wanted it to be a networking platform, on further working I wanted it to be an educational platform, this was all on the paper.
Years later, practically I started with a blogging platform, later upgraded to an E-commerce platform which was further brought under incorporation.
Currently, I own 3 websites, 1 personal(mohanma.com), 2 brands(sumshowdone.com & bookcorridor.com) under 1 company(Sumshowdone Technologies Private Limited).
I had my first job offer through campus placement in my final year of Engineering(2011). The thought of starting a company was always there, I had come close in 2013 but could never materialize plan into action that year. I owned my first website in 2014(sumshowdone.com), became a online merchant in 2015, incorporated a company in 2016, owned my second website(bookcorridor.com) in 2017 and owned my third website in 2018(mohanma.com – this was spontaneous).
Startup landscape has seen a huge shift compared to 2010, the number of users in the industry that I operate has seen an upward lateral shift.
The kind of people that I have got to meet in this field is something different from a corporate life.
Entrepreneurship gives you freedom, with freedom comes great responsibility.
Value creation is the biggest form of reward that an entrepreneur yearns for, if tomorrow you want  to be an entrepreneur, you should be concentrating on a product or service that can change somebody's life or make the buyer a happier person.
Things that I learnt being an entrepreneur:
If you want to do it you just do it(gut feeling).
Face your fears.
Never postpone, time is a very important resource.
Reading plays a very important role in shaping your thought process.
Failures are stepping stones to success.
The amount of knowledge and learning you acquire being an entrepreneur is tremendous.
An Entrepreneur should be ready to wear all hats from being a leader to a office boy.
Each one of us is knowingly or unknowingly an entrepreneur at some point. I believe at the end it's all about your temperament, your adaptability combined with serenity.
Facebook Comments