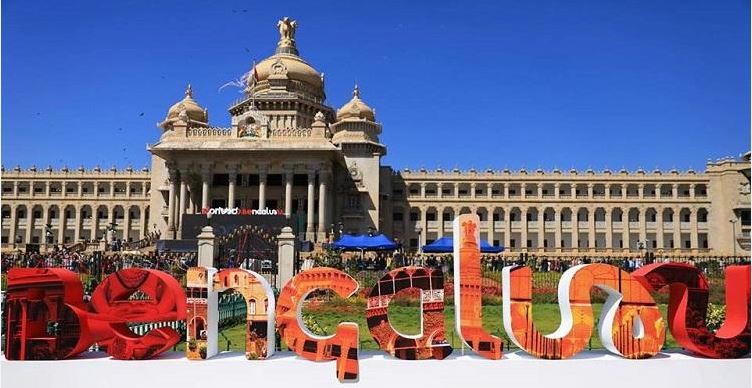 Here is a list of reasons for Bengaluru being a favorite location to start-up:
1 – Technology Infrastructure :- High end systems, high speed internet, ask for anything new in the field of technology, it's usually first implemented in Bengaluru. That gets Bengaluru a premium tag.
2 – Workforce & Talent :- A plethora of highly qualified professionals makes it a easy choice for most of the entrepreneur's to choose Bengaluru to kick-start their venture. Engineer's and Business professionals are a new class of the neatly woven fabric in Bengaluru.
3 – Geographic location :- Weather in Bengaluru is usually pleasant with room temperature hovering between 23°C to 27°C throughout the year with summer being an exception. Bengaluru is the king among metropolitan cities of India, when it comes to weather.
4 – Koramangala :- The Heart of Entrepreneurship for the whole nation is located at koramangala. Visit any street in this locality of Bengaluru and you shall encounter a new venture or business being built. Koramangala is a place that every entrepreneur must visit at-least once in their lifetime.
5 – Government support :- The Karnataka Government has been one of the most proactive government in the country as far as Entrepreneurship is considered. Some of the highly successful Information Technology & Bio-technology ventures started off from Bengaluru by the initial support offered by Karnataka Government. ITPL and many SEZ's in the city are examples for it.
6 – Cosmopolitan Nature :- This is the ultimate reason for Entrepreneurship to be cherished in Bengaluru. People from different parts of the country live and work in Bengaluru, surely Bengaluru is a "Melting pot".
7 – Cost of living :- Of late the costs have been going up in Bengaluru considering inflation and other factors. But it's still affordable for middle class to survive. Cost of living is comparatively cheaper than Delhi and Mumbai.
8 – Education :- The city hosts a series of exceptional institutions, IISc and IIM being the cream. Even at secondary and higher secondary level there are many noteworthy institutions.
9 – Law and Order :- Law & order is usually stable with few huff and puff at times. Law & order is one more reason to choose Bengaluru as a business location.
10 – Healthcare :- Many healthcare bodies are spread-out through the city, there are specialized units in the city where foreigner's are addressed too. Healthcare facilities are cheaper in Bengaluru compared to International standards.
Bengaluru is the first Indian city to have it's own logo.
"BE"ngalur"U", BE and U in Bengaluru stands for "Be You".
Facebook Comments