There is a great sense of joy in lighting an oil lamp.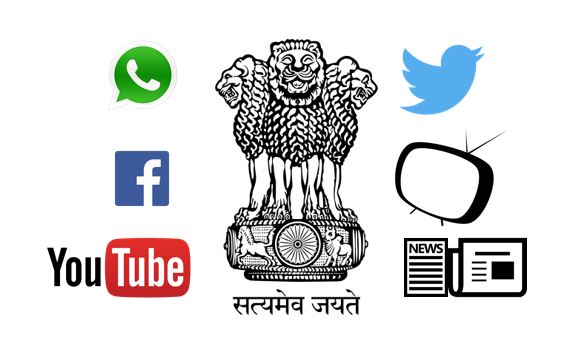 We live in a tech savvy world where political polarization is widely done than ever before. Technology which was meant to bring transparency and clarity is used to clog and obscure people of reality.
Elections which are a quintessential part of democracy has been diluted of it's attempt to create true change and nation building process.
There is a reason to discuss about current trending technologies as the following avenues can create a biased opinion in the minds of voters.
Social Media
WhatsApp – Probably one of the most vulnerable platform to spread fake news, easy to opinionate, ability to reach out quickly to masses through groups and the power it gives for sharing content on it's own platform and posts from other platforms. Political parties have been using this platform excessively to propitiate people by their propaganda.
Facebook – Biggest social media platform which literally captures every single action of it's users on it's platform. It can influence all it's members through groups, friend lists, pages, Facebook Ads. Given their ability to target ads to a particular group of people, this platform has the best route to impact people.
Further, the comments on posts and the likes/reactions for a post have multiple fake profiles used by political parties to create a opinion.
YouTube – The leading video platform too is not spared from fake news, fake videos in recent years. Simple way of misusing the platform can be through it's likes and dislikes button, again comments section here too can be misused. Each and every political video has 80 : 1 like, dislike ratio. Edited videos of speeches pose a threat to easier understanding for the people.
Twitter – Twitter on the other hand is more for niche users which can be used like a cyber war platform for different political parties. Hashtags, retweets from socially influential people and parody accounts can bemuse people. Also, the follower count of various political leaders is questionable.
The above mentioned points address the user aspects only, if dug deep dark data in back-end higher insights shall be extracted through data dumps and data generated through users. And this data is available with the platform plus the data provider for the user device. If there is a need the government in concerned jurisdiction can also access user data.
IT cell of major political parties today is equivalent to any medium size software consulting firm. It's almost near to impossible for independent and lesser known political parties to make their presence felt on these above mentioned platforms.
The recent findings of data misuse from Cambridge Analytica from Facebook data is a single case acknowledged properly so far, there are various loopholes on all these platforms which needs to be fixed.
Television
With television channels available on mobile devices the line is thinning between conventional tv's and internet tv's. Here consider only conventional tv, there are several channels which operate 24X7 reporting about elections, lobbying for their desired political parties. There is little consensus expressed by these news channels to report unbiased news.
Moreover the surveys and opinion polls conducted by most news channels bring out results in favor of political parties which they approve and validate.
Newspaper / Print Media
Once a heavily dependent mode of news consumption, now reduced in it's numbers on advent of internet and television. Yet, they are making their presence felt through online news portals these days. All newspapers in circulation today have political affiliation to some or the other political party, this mode is comparatively trustable given there is an organization to look through articles printed on the newspaper.
Unlike the other modes newspapers are on record, from ages.
Thus, with these pointers on current technologies we head towards the Karnataka assembly elections on 12th May 2018. Vote for a candidate without prejudice but with reasoning, if you don't like any of the candidates, press NOTA.
Exercise your power to vote.