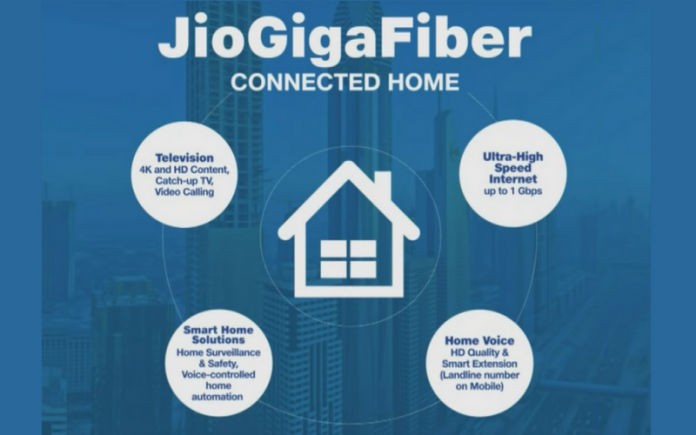 Jio Fiber – Fiber to the home(FTTH) service will be commercially available from September 5th, 2019.
Speeds ranging from 100 Mbps to 1 Gbps for different plans.
Basic plans starting from Rs 700 to premium plans at Rs 10000 per month.
JioFiber plans come bundled with leading over the top(OTT) service subscriptions.
Customers opting Jio Forever plan – to get a full HD television or a Home PC and a 4K SET-TOP-BOX for free.
Jio First Day First Show plan available with premium packages to stream movie on the same day of release will be rolled out in the middle of 2020.
Cloud partnership with Microsoft Corporation.
Jio-Azure to provide free cloud platform service for

Indian Technology Startups

.
Voice calls will be free for home broadband subscribers.
Unlimited international calling will be available for Rs 500 to US and Canada.
Plans come in three formats:

Broadband only.
Broadband + TV.
Internet of Things(IoT).

Jio's IoT platform to be commercially available from January 1, 2020.
Apart from these highlights, Saudi Aramco will buy 20% stake of Reliance oil to chemical business in a $75 Billion Deal.