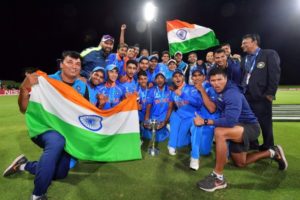 ICC U19 World Cup 2018 is special for India because the performance of this team has been clinical and simply outstanding.  Look at the track record starting from match 1 that India played in this tournament.
Group Matches
India won by 100 runs vs Australia
India won by 10 wickets vs Papua New Guinea
India won by 10 wickets vs Zimbabwe
Super League quarter-finals
India won by 131 runs vs Bangladesh
Super League semi-finals
India won by 203 runs vs Pakistan
Final
India won by 8 wickets vs Australia

The margin and the rate at which these boys have won matches has been phenomenal.
One man behind this stupendous show is 'The Wall – Rahul Dravid'. Not to forget the contribution of other coaches and support staff involved with this team. Dravid, would definitely be a happy coach after winning the cup which his boys(different team) had lost a couple of years ago in the final.
This is India's 4th title overall and 1st on New Zealand soil at under 19 level.
Things that this lads would have definitely learnt from Rahul Dravid:
i) To score runs patiently.
ii) To put a price on their wicket.
iii) To care for every single run.
Prithivi Shaw, Shubman Gill, Manjot Kalra, Anukul Roy have been the pick of this tournament.
Rahul Dravid comes from the old school of thought in going through the grind to master skills. This can be seen even today when he instructed the young boys to stay away from mobile phones till finals and concentrate on the tournament instead of IPL auctions.
Well, I remember reading in local newspaper that Dravid owns a plot in HSR Layout, wish he builds a home here so that I can meet him sometime in the future and brag he lives in my neighborhood.
Harsha Bhogle had once called Dravid as "the Wolf who lived for the pack", well the wolf has grown now to guide the whelps.
Congratutions to U19 Indian cricket team and the coaches, including Rahul Dravid.
Facebook Comments